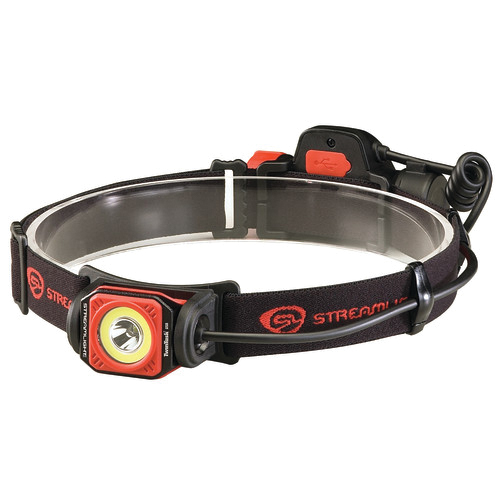 Beam Type:

Flood/Spot

Dimensions:

1.35 in H x 2.12 in W x 1.2 in D

Enclosure:

IPX4

Housing Material:

Nylon

Number of Batteries:

1

Recharge Time:

4.5 hr

Series:

Twin-Task®

Type:

Multi-Function

Lumens:

375 Lumens

Battery Type:

Lithium-Ion

Bulb Type:

C4® LED

Average Life:

50000 hr

Color:

Black/Red
Super bright and versatile USB rechargeable headlamp uses our existing Strion® battery for power and brightness. Two lighting modes cover a variety of tasks - spot for a focused beam and flood for smooth light for tasks at arm's length. An ideal headlamp for the auto and professional industries, or anywhere you have an existing Strion® flashlight and battery already ready to go.
Two lighting modes to cover a variety of tasks, spot for a focused beam and flood for even area illumination
Multi-function pushbutton with mode memory
Low profile, ergonomically balanced design
Contoured battery pack for wearer comfort
High impact, super tough nylon polymer construction
Polycarbonate lens and cord clips prevent snags
120 deg tilting head eliminates neck fatigue
Water-resistant, 2 m impact resistance tested
Spot for distance lighting - high: 375 Lumens, 121 m beam; runs 4.75 hr, 3650 candela, medium: 175 Lumens, 86 m beam, runs 8.5 hr, 1850 candela, low: 50 Lumens, 42 m beam, runs 20 hr; 440 candela
Flood for area illumination for tasks at arm's length - high: 250 Lumens, 25 m beam, runs 5 hr, 160 candela, low: 125 Lumens, 18 m beam, runs 9 hr, 80 candela
Smooth flood mode lighting runtime of 9 hr
Ergonomic design for low profile comfort fit
Mode memory remembers your last setting