XOMX 180631R-M10 F40M MILLING INSERT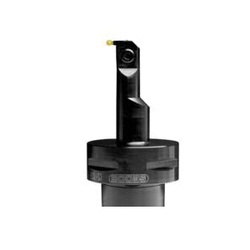 Manufacturer Grade:

F40M

Insert Style:

LCGA, LCGF, LCGN, LCMF, LCMR

Corner Radius:

0.122"

Insert Seat Size:

XO

Surface Treatment:

PVD

ANSI Designation:

XOMX180631R-M10

Application:

Grooving, Profiling, Turning, Parting-off and Threading

Attributes (Y):

Y

Center to Cutting Edge:

10.2 mm

Cutting Edge Length:

0.763"

Direction of Cut:

Right Hand

Fixing Hole Diameter:

0.197"

Geometry:

M

Hand of Insert:

Right Hand

Image (Y):

Y

Insert Compatibility:

LC..1303..

Insert Holding Method:

Secoloc™ Clamp

Insert Width:

0.441"

ISO Designation:

XOMX180631R-M10

Material:

Carbide

Maximum Depth of Cut:

3 mm

Maximum Width of Cut:

3 mm

Old Manufacturer Number:

03854

Projection:

65 mm

Rake Angle:

21°

Series:

Seco-Capto™

System Size:

C4

Thickness:

0.25"

Tool Type:

Insert

Type:

Internal Multi-Directional

Wiper Edge Length:

0.087"
The Seco MDT (multi-directional turning) is universally suitable for variety of applications including grooving, profiling, turning, parting-off and threading. The unique Secoloc™ clamping delivers the best stability and safety in addition to high productivity and performance. Applications include turning parts with many different diameters, complicated profiles and grooves, replacing the need for several standard and special tools with a single Seco MDT. Further savings can be achieved through fewer tool changes and reduced tool stock. The unique insert clamping method Secoloc™ combines a V-shaped top clamp with serrated contact surfaces between the underside of the insert and the toolholder for superb stability. The relatively long insert also increases stability.