A11 7/8"DIA MOUNTED POINT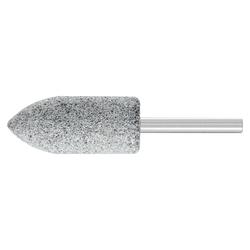 Point Shape Code:

A11

Shank Diameter:

1/4"

Grade:

Extra Coarse

Grain Material:

Silicon Carbide

Abrading Application:

Cast Iron

Application:

For removal of sharp burrs on castings (grey and nodular cast iron) and removal of sand inclusions/scale from castings

Attributes (Y):

Y

Bond Type:

Vitrified Porous

Density:

R

Grit:

30

Head Diameter:

7/8"

Head Length:

2"

Image (Y):

Y

Maximum Speed:

19860 rpm

Series:

A Series

Shank Length:

1-1/2"
PFERD offers a very extensive line of vitrified and resin bonded mounted points. Designed to meet individual application needs, these products come in a broad range of grain types, grit sizes, hardness levels and shapes. The mounted points are manufactured on advanced production lines to high standards of dimensional accuracy and stability, consistent quality and close tolerances.
Hardness grade R mounted points are made of grey silicon carbide in a vitrified bond
These products are noted for their hardness and durability
Hardness grade R tools are ideally suited for heavy duty edge grinding on castings
They are distinguished by their high edge holding capability, long service life and low wear
Due to their special edge holding properties, hardness grade R mounted points can also be used economically with low RPM power tools