#10-32 H3 FORM TAP TIN COATED
#10-32 H3 FORM TAP TIN COATED
OSG1400119905
MFG #: 1400119905
Avg. lead time is 2-5 days. Call or chat to expedite your order.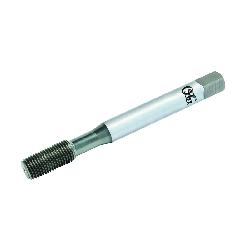 Series:

HY-PRO® NRT® 14001

Thread Size:

#10-32

Chamfer Type:

1.5P Short Bottoming

Thread Limit:

H3

Thread Series:

UNF

Attributes (Y):

Y

Diameter:

0.1741 to 0.1776"

Direction of Cut:

Right Hand

Image (Y):

Y

Material:

High Speed Steel-CO

Measurement Standard:

Imperial

Overall Length:

2.37"

Shank Diameter:

0.194"

Square Size:

0.252 in L x 0.152 in W

Surface Treatment:

TiN

Thread Length:

0.516"

Type:

Performance
Taps are used to cut screw threads on the inside surfaces of holes, creating the "female" half (nut) of the screw. High precision is of vital importance, particularly in areas such as automobile engines, which require precision screws. OSG offers a lineup of taps with diameters in various sizes and with specifications suitable for a wide variety of uses.
Forming taps work by compressing the work material