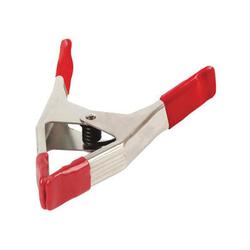 Clamping Capacity:

2"

Throat Depth:

2-1/4"

Jaw Size:

1" W

Attributes (Y):

Y

Dimensions:

6.3" L x 4.72" W x 1.2" H

Image (Y):

Y

Material:

Steel

Series:

XM Series

Surface Treatment:

Nickel Plated

Type:

Light Duty General Purpose
Spring clamps are convenient wherever relatively light pressure is adequate and speedy application and removal are important. Spring clamps are designed as a quick and easy answer to many clamping needs in the home, workshop or on the job site. The "XM" series is Bessey® steel spring clamp line. Nickel plated to resist corrosion with vinyl tips and handles for improved grip. Versions with a -NPT suffix are also nickel plated but without any vinyl grips and tips.
Heavy duty springs for firm grip
Nickel plating resists corrosion
Vinyl tips prevent marring and vinyl handles for a non-slip grip
Locks onto projects with firm grip
Quick and easy answer to many clamping needs in the home, workshop or on the job site