XOEX 060204FR-E03 H15 MILLING INSERT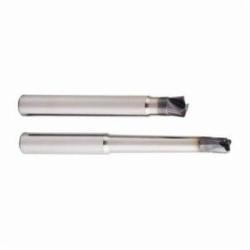 Series:

JABRO® HFM JHF180

Diameter:

12 mm

Corner Radius:

0.016", 3 mm

Length of Cut:

3 mm

Number of Flutes:

5

Material:

Carbide, Solid Carbide

Overall Length:

75 mm

Surface Treatment:

MEGA-64, PVD Coated, Uncoated

ANSI Designation:

180120R300Z5-MEGA-64, XOEX060204FR-E03

Application:

Radial and Ramping Applications

Attributes (Y):

Y

Cutting Edge Length:

0.272"

Direction of Cut:

Right Hand

Fixing Hole Diameter:

0.079

Flute Type:

Right Spiral

Geometry:

E

Hand of Insert:

Right Hand

Helix Angle:

10°

Image (Y):

Y

Insert Seat Size:

XO

Insert Width:

0.161"

ISO Designation:

180120R300Z5-MEGA-64, XOEX060204FR-E03

Manufacturer Grade:

H15

Old Manufacturer Number:

13863

Rake Angle:

29.2°

Shank Diameter:

12 mm

Shank Type:

Cylindrical

Thickness:

0.096"

Tool Type:

Insert

Type:

High Feed Single End

Wiper Edge Length:

0.035"
The JABRO® HFM JHF980 solid carbide end mills are a top choice in high feed machining and now even more so with new 4 and 5-flute cutter options. Engineered for extremely productive face, slot and select plunge milling applications, the tool takes advantage of the latest design and grinding developments to incorporate an increased number of flutes. This doubles the feed rate capability compared to previous JABRO® end mills. And, when applied at the same table feed rates as the prior tools, these new high feed cutters deliver increased tool life results. Optimal application of the JABRO® high feed cutters depends on the machine tool, CNC and programming capabilities, as well as the workpiece material and part size. High feed machining pairs shallow axial depths of cut with accelerated table feed rates to produce the increased metal removal rates. Cutting forces are directed axially into the spindle, stabilizing the operation as well as minimizing vibration and machine wear.